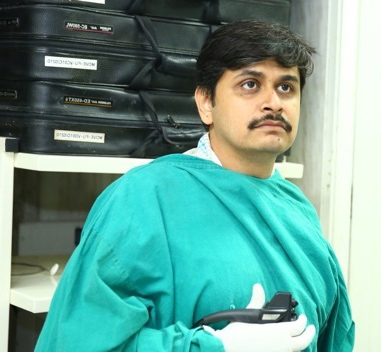 Dr. Nachiket Dubale is a great remarkable Gastroenterologist in Pune having huge concern in dealing with every Gastrointestinal issue like Gastroenterology and Liver Diseases and so forth.
He is having enormous contribution in performing analytic and therapeutic enteroscopy.
His region of interests are UpperEndoscopy, pancreatolgy and little inside illnesses Gastroenterology, Colonoscopy, Therapeutic GI Endoscopy/ERCP, Sigmoidoscopy.
The doctor is quite friendly and simple in discussing the health issues, Felt comfortable and confident about his approach and it helped me much! My queries were patiently answered too Thank you Doctor!!
A specialist as well as life friend in need. I was in a circumstance where none of the specialist's could perceive what is the issue. I went by Numerous specialists and solutions didn't work by any stretch of the imagination, I was dying with the pain I had experienced yet subsequent to going by specialist Dr. Dubale Center within two dosage I could rest easy. We remain in Maharashtra however we were considering venturing out to Haryana as we became more acquainted with about a specialist yet Dr. Nachiket Dubale solution's worked and he gave me the least expensive medicine and till date I'm fine and he isn't just a specialist however a man who got alleviation to my stomach treatment. My words can never be adequate to legitimize his treatment. Best specialist I ever met .Best indeed.
I can definitely say, Dr. Nachiket is one of the best Gastroenterologist in Pune. He gives enough time for patient, listen everything from you and then guide you about your problem. His friendly and calm nature is awesome!! If you are suffering from stomach related problem then I will recommend you to visit this hospital. Thing to keep in Mind - before visiting the Hospital do confirm whether Doctor is available or not via Phone Call.
Exceeded My Expectations. I just recently went to the Dr. Nachiket Clinic and my experience is totally exceeded my expectations. I arrived at 5 PM and was done and out by 5:30. UNBELIEVABLE! The staff was quick, knowledgeable and understanding. I love your services.
Prompt Service. Hospital Environment Is Very Friendly & Hygienic. Cleaning Service Is Very Good. Staff Is Very Friendly & Under Standing. Thank You For Everything.