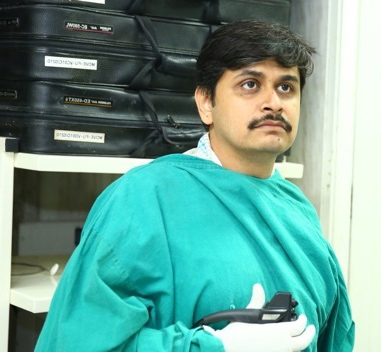 Dr. Nachiket Dubale is a great remarkable Gastroenterologist in Pune having huge concern in dealing with every Gastrointestinal issue like Gastroenterology and Liver Diseases and so forth.
He is having enormous contribution in performing analytic and therapeutic enteroscopy.
His region of interests are UpperEndoscopy, pancreatolgy and little inside illnesses Gastroenterology, Colonoscopy, Therapeutic GI Endoscopy/ERCP, Sigmoidoscopy.
Who is a Gastroenterologists?
A doctor who practices in diseases of the digestive system is known as a gastroenterologist.
They have comprehensive training in the analysis and practice of conditions that affect the esophagus, stomach, small intestine, large intestine, and biliary system (liver, pancreas, gallbladder, bile ducts).
Gastroenterologists have complete knowledge of how food moves through the digestive tract and the physical and chemical break down of food (digestion), including the intake of nutrients and the removal of waste products.
What does the gastroenterologist do?
They will help you, if you suffer from any of the following symptoms
1. You're experiencing constipation
2. You experience diarrhea
3. Consistent heartburn
4. You suspect you have gallstones
5. To schedule a colonoscopy
6. Cancer screenings
7. You suspect you have an ulcer
8. Your diet is causing bloating
9. Hemorrhoids
10. Blood in stool
What are the responsibilities of gastroenterologist?
Gastroenterologists specialize in the evaluation, examination, control, and practice of the following signs and conditions:
1. Abdominal pain and discomfort
2.  Bleeding in the digestive tract
3. Cancer (colorectal cancer, stomach [gastric] cancer, pancreatic cancer, liver cancer)
4. Constipation and diarrhea
5. Gallbladder disease
6. Heartburn and gastroesophageal reflux disease (GERD)
7. Hemorrhoids
8. Hiatal hernias
9. Pain in the digestive tract (gastritis)
10. Liver disease (hepatitis, jaundice)
11.  Malabsorption disorders (celiac disease, lactose intolerance)
12. Upset Stomach
13. Nausea, vomiting
14. Ulcers
15. Unexplained weight loss
What are the symptoms for poor acid stomach problems?
Stomach bloating
2. Nausea when taking supplements
Burping
Upset Stomach
Burning
Flatulence
Diarrhea
Weak, cracked fingernails
Dilated Capillaries in cheeks and nose
Post-adolescent acne
Iron deficiency
Mineral Deficiencies
Chronic Intestinal Infections
Undigested Food in stool
My uncle had a small liver related surgery yesterday in Poona Hospital done by Dr Vinit Shah & Dr Nachiket Dubale. In these difficult times all went off well and uncle is doing absolutely fine. Would like to thank both the doctors and the entire staff of Y ward of Poona hospital. Special thanks to Dr Deepa Khisti who is leading the team in the Y ward. I have been a witness to the service of the staff of the Y ward of the hospital and feel thankful and grateful to all of them. God bless them all. This is despite inadequate Covid protection provided by the hospital. The staff is putting their own life at stake and treating the patients. Hats off to their dedication.
My grandfather came to Dr. Nachiket Dubale for an esophageal stent operation and the operation went great. The service was excellent, the facilities are hygienic and sophisticated. I can easily declare Dr. Dubale, the best gastroenterologist in Pune. Everyone including the housekeeping staff go out of their way to make you feel comfortable. I totally recommend him to all.
Dr. Nachiket does excellent diagnosis of problems of patients. He seems to be having Godly gold touch to his hands and thus returns successful every now and then. I would recommend him as I feel that one would be safe in his hands if he is consulted. Congratulations to him!
The doctor is quite friendly and simple in discussing the health issues, Felt comfortable and confident about his approach and it helped me much! My queries were patiently answered too Thank you Doctor!!
A specialist as well as life friend in need. I was in a circumstance where none of the specialist's could perceive what is the issue. I went by Numerous specialists and solutions didn't work by any stretch of the imagination, I was dying with the pain I had experienced yet subsequent to going by specialist Dr. Dubale Center within two dosage I could rest easy. We remain in Maharashtra however we were considering venturing out to Haryana as we became more acquainted with about a specialist yet Dr. Nachiket Dubale solution's worked and he gave me the least expensive medicine and till date I'm fine and he isn't just a specialist however a man who got alleviation to my stomach treatment. My words can never be adequate to legitimize his treatment. Best specialist I ever met .Best indeed.
I can definitely say, Dr. Nachiket is one of the best Gastroenterologist in Pune. He gives enough time for patient, listen everything from you and then guide you about your problem. His friendly and calm nature is awesome!! If you are suffering from stomach related problem then I will recommend you to visit this hospital. Thing to keep in Mind - before visiting the Hospital do confirm whether Doctor is available or not via Phone Call.
Exceeded My Expectations. I just recently went to the Dr. Nachiket Clinic and my experience is totally exceeded my expectations. I arrived at 5 PM and was done and out by 5:30. UNBELIEVABLE! The staff was quick, knowledgeable and understanding. I love your services.
Prompt Service. Hospital Environment Is Very Friendly & Hygienic. Cleaning Service Is Very Good. Staff Is Very Friendly & Under Standing. Thank You For Everything.
Nicely Organized. I Came To Gastro care In An Emergency, Needing Good Medical Care. After Getting Best Medical Attention, I Had The Chance To See The Whole Medical Center And Was Proud That Indians Build And Furnish The N.C. To The Best Of World Standard.
Thank You Thank you very much. I just want to say that I have been using your service for years and am always extremely pleased with the quality care I receive from your vets and their staff.